" We create limited edition contemporary ethnic jewellery"
" For me Isla has an amazing set of go to products if you are looking for a unique touch that nobody else would have. I always get asked where my jewellery is from since it always stands out "
" For me your jewellery saves any outfit, I do not have to think too much about what to wear in the morning because as soon as I add a piece , it brightens by look "
" I really love this oriental inspired touch , its so original an exotic , adding a special touch to my everyday outfits"
"Whenever I wear Isla jewellery , I always manage to stand out because its so different from any other, and I personally love the fact that its handmade"
Welcome to ISLA
OUR STORY
Liliana Ishihata created ISLA in 2017 to be more than just a jewellery brand but a concept, a life style representing the modern and fashionable women, combining what she has always enjoyed: fashion, gemstones, people, and history.
ISLA (island in Spanish) evoques an imaginary place where several cultures have been and left their imprint, for the fashion- forward women, a place where you make yourself stand out of the crowd.
We travel through times, letting our contemporary design be inspired by ancient Mediterranean cultures. And we come to India, where the pieces are handmade mixing the bronze and modern technology used by the Indian craftsmen who blend them with the gold shine and the preciousness of the gemstones from all around the world.
This ethnic touch makes all the difference as it infuses my passion for culture and history in the modern design. With these jewellery stories about inspiring cultures and travels to faraway places come to life. As such, they provide the women wearing them the stories and strength they carry within.
The pieces are fashionable and entail the values of fair trade, budget consciouness and our belief for a better world as a percentage of the sales is donated to humanitarian projects in India.
If you want to make a statement and stand out, have a hint of glamour and delve into the exotic traditions of an ancient world, wearing something that is more than just an accessory, this is your island.
Our jewellery is sold in several shops, art galleries in Europe, among them, the shop of the Louvre Museum in Paris
Our Sustainable values
1.Exclusive production quantities: Two collections a year and limited edition pieces
2.Give back program: Where we donate a percentage of sales to humanitarian causes in Jaipur India
3.Handmade craft: Supporting traditional Indian craft making techniques for example the type of traditional gold plating
4.Conscious production: We have direct contact with our factory and production manager as well as have also done check ups by traveling to India ensuring all production steps are undergone ethically
5.Recycled packaging : We make sure to wrap your precious Isla pieces in a timeless cloth bag which can be forever reused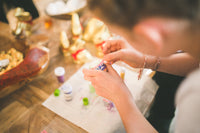 Our process
We value the authenticity and beauty of the handmade process which we believe adds great value and a personal touch to every piece where ever single product ends up with a unique fingerprint
1.Our pieces are uniquely designed in France and Spain by me and my con founder

2.Each design is then sent to production in our Indian factory " Vishnu " in jaipur to tito our production manager , they are handmade and gold plated using traditional techniques
3. Each design is handcrafted in brass and 24 kt gold plated receiving the treatment of E-coating technology that seals and preserves the coating work for longer periods of time (at least 1 year).
4.We use only high quality stones cut exclusively for our pieces. We do not work with dyed stones or resin.

5. A limited edition collection of small quantities is produced to make sure we avoid waste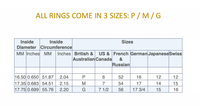 Ring size guide
Size guide so you can choose which is the size of your ring.
Testimonials
Isla propose des bijoux aux milles couleurs avec des matières nobles et précieuses et une finesse dans ses créations tout en offrant des prix très accessibles. Une équipe très chaleureuse, passionnée et de très bons conseils

Eliane W